Bohemian Bistro
BISTRO with unique ambience in the heart of Prague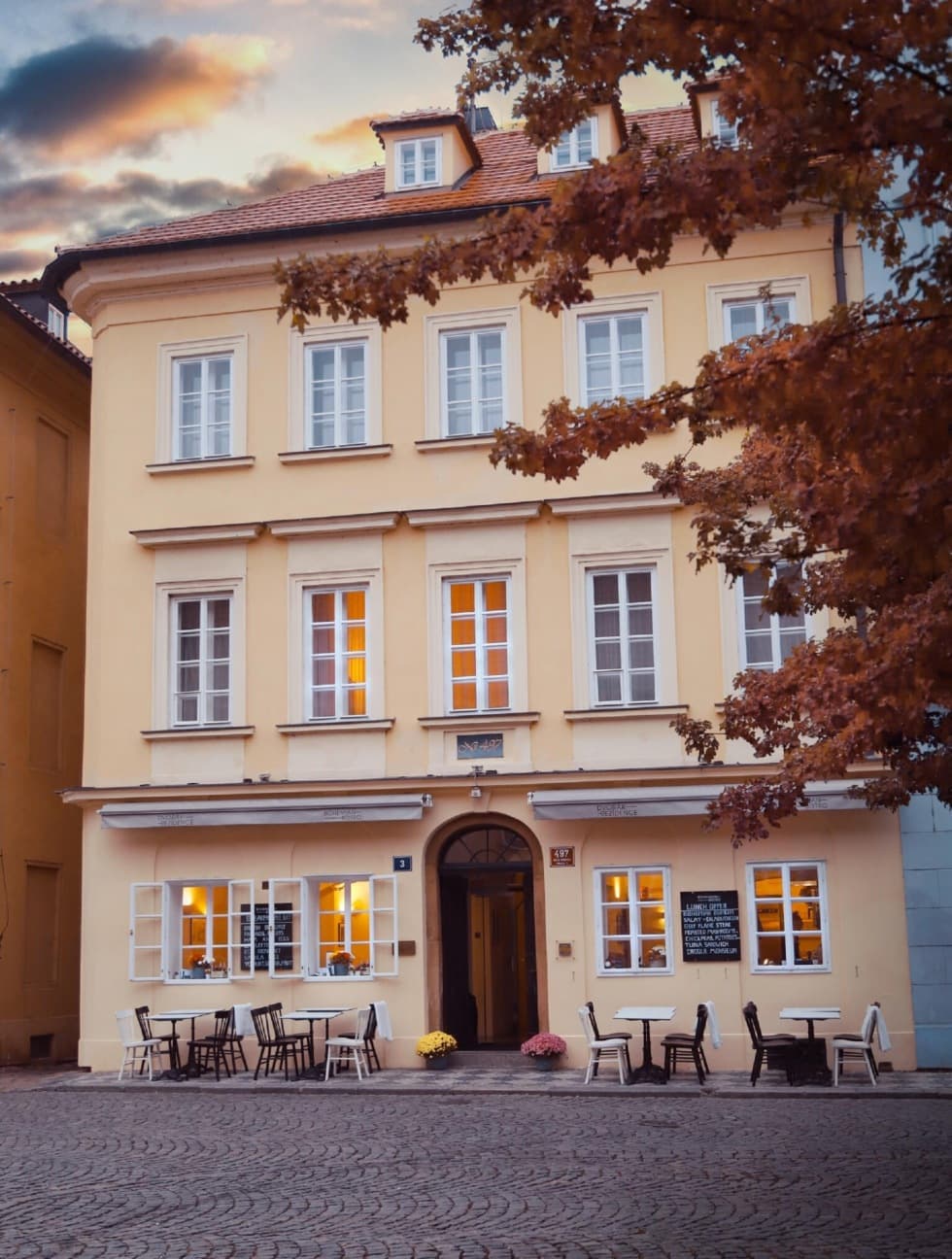 Croque Monsieur, small salad
Sandwich with tuna, eggs, citrus mayonnaise, spring onion, small salad
Shakshuka - baked vegetables with fried eggs and coriander
Bohemian Burger, grenaille and small salad
Beef Flank steak, grenaille, broccoli, spinach, portobello
Roasted mashrooms with chickpeas, green beans, pearl onions, potatoes and herbal dressing
Salad made from green lettuce, fresh vegetables, avocado
• smoked salmon, poached egg
Bread based on a daily offer
Quiche lorraine daily offer, with small salad
Scrambled eggs with small salad, bread
Omelette with ham or cheese, bread
Ham and eggs with Prague ham, bread
Egg Benedict with smoked salmon, spinach, brioche
English breakfast – fried eggs, bacon, sausages, beans, mushrooms, toast
Pancakes with fresh fruits, sour cream and maple syrup
Vanilla rice with cardamon, almond and fresh fruits
Yoghurt with quinoa, blueberries
San Benedetto - (Non sparkling) 0,5 l
Perier - (Sparkling) 0,5 l
Vitell - (Non sparkling) 0,75 l
Bohemsca - (Elderflower, Lime, Thyme, Cucumber, Mint) 0,33 l
Zen - (Raspberry, Sea Buckthorn, Aronie, Garnet Roibos) 0,3 l
Hendrych - Bohemian Lager 4,7% 0,33 l
Pilsner Urquell - Lager 5% 0,33 l
Neuburg white, Kabinett, Sedlák 0,15 l
Frankovka rosé, Semidry, Sedlák 0,15 l
Frankovka red, late harvest, Sedlák 0,15 l
Grüner Veltliner, Langelois, Bründlmayer 0,15 l
Baron Hildprandt (matured pear or raspberry) 0,04 l
Gin Tonic Fentimans - (Cucumber or lemon) 0,275 l
Prosecco - (Scavy & Rey) 0,2 I
Veuve Clicquot - (Champagne) 0,2 I
Winka - (Raspberry, Wein) 0,33 l
Fermentada Lemon Ape 0,33 l
Ronnefeldt tea - according to the offer
Fresh ginger - mint tea with honey
Sweets based on a daily offer
Cauliflower soup with herbal oil
Slowly roasted duck thigh, potatoes Grenaille, mesclun salad
Pumpkin soup with coconut milk, pears, pickled ginger
Quiche based on daily offer (goat cheese, Prague ham), leaf spinach, radish
Barley risotto with mushrooms, parmesan, herbs
Grilled salmon, broccoli, carrot, mashed potatoes
Paris brest, salty caramel, nuts
Smoked potato soup, champignon, herbs
Chicken supreme, grilled vegetable, chicken jus
Apple strudel, whipped cream
Beef chuck pepper carpaccio, arugula, olive oil, parmesan
Grilled prawns, tomatoes, tagliolini
Group Menu is available for minimum 10 guests, prior order is required
Bistro WITH UNIQUE ambience
Dear guests we have to inform you that on tuesday 29th October from 2 PM the Bohemian Bistro will be closed due to technical reasons.
The Bohemian Bistro originate of our desire to venture into the unknown and create something new and unique in the heart of Prague's Mala Strana. Our aim was to design a meeting place by the Charles Bridge where both locals and tourists could come and enjoy delicious home-made meals, drinks and happy vibes.
We offer mouth-watering and eye-pleasing food for reasonable prices in the very heart of the beautiful Kampa park and square. Our light and fresh meals, snacks and desserts make you want to come back for more. We hope you will enjoy your time here. See you soon in Bohemian Bistro!